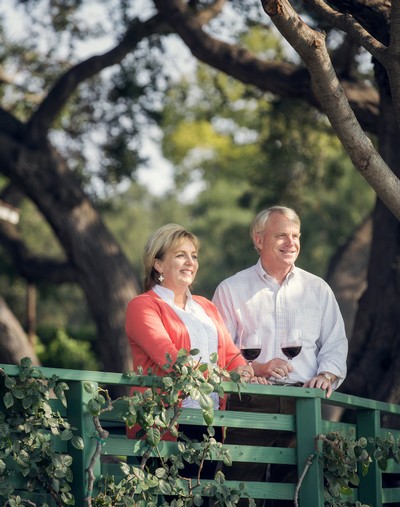 Geoff and Alison Rusack
Vintners
Raised in the Los Angeles area, Geoff returned to Southern California after graduating from Bowdoin College, in Maine. Following a stint in television production, he earned his J.D. from Pepperdine University and worked for many years as a defense attorney. Alison, a native of Chicago who spent many childhood summers on Catalina Island, moved west for college. After receiving her degree from Stanford University, Alison relocated to Los Angeles, where she too worked in television production before joining Disney Consumer Products' Film & Television Licensing department, followed by the Creative Development Group at Disney Publishing.
A blind date, a leap of faith, and a commitment
After meeting on a fortuitous blind date, it was on their second get-together that Geoff & Alison first dreamed up the prospect of starting a vineyard and winery together. A few years later, that dream took shape when an opportunity arose to purchase a piece of property in picturesque Ballard Canyon, an area with which they immediately fell in love. Geoff and Alison took the leap, and moved their young family to a house on the Vineyard property, with a vision of creating world-class wines reflective of the unique character of the region.
A family project from the beginning, the first Rusack vineyards "crush" took place in 1995 (with two purple-toed toddler assistants)! In 1997, the tasting room opened to the public, and soon became a prime destination for those looking to take in the layered flavors and rolling hills of Ballard Canyon. The following years have brought growth and increasing acclaim, yet Rusack Vineyards remains true to the principles upon which it was established: hands-on craftsmanship, regional character and a tireless commitment to excellence. Geoff and Alison continue to oversee all aspects of the vineyard, and are extremely proud of the hard work and exceptional results that their team has produced.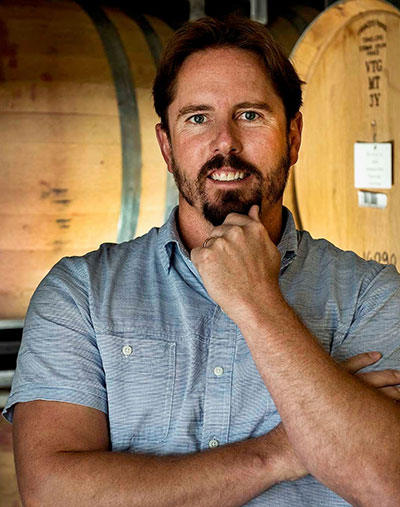 Steven Gerbac
Winemaker & General Manager
Growing up on the Central Coast, Steven was introduced to the wine industry at an early age. His journey began when he tagged along on wine tours at the local winery where his mother worked. At that young age he was mystified by the large tanks, the catwalks and the musty-sweet smell of the cellar. The appeal of that experience remained with him as he grew up, and when it came time to embark on his 8th grade science project, winemaking was Steven's choice; he pursued an opportunity to study malolactic fermentation with Central Coast winemaking pioneer Rick Longoria. Steven's next step was a cellar staff position at Whitcraft, another trailblazer in the local wine industry, where he developed an interest in crafting vineyard-designate Chardonnay and Pinot Noir.
At age 19, while securing his B.A. from the University of California, Santa Barbara, Steven recognized that winemaking was his singular passion and he committed himself to making it his vocation. Shortly thereafter, he accepted a position as Cellar Assistant at Brander, where he had yet another opportunity to work for a distinguished Central Coast winemaker. In that position, he gained experience integrating an old-world winemaking approach with the opulent fruit of the central coast. He also gained experience working with Bordeaux varietals.
In 2003, with a yearning to work with Pinot Noir once again, Steven took the production assistant job at Rusack Vineyards. He saw Rusack as a place where he could "create quality-driven wines and be involved with the recently planted, state-of-the-art vineyard." Steven has been with Rusack nearly twenty years, beginning as production assistant, moving on to Cellar Master, and working his way up to Assistant Winemaker. While completing his Certificate in Winemaking at the esteemed University of California at Davis in 2012, Steven was appointed Winemaker.
At Rusack Vineyards, he oversees a portfolio of estate-grown, Rhone-inspired wines; the production of Anacapa, the popular Bordeaux style blend, and a Burgundy-inspired selection of Chardonnays and Pinot Noirs from the Sta. Rita Hills and Santa Maria Valley appellations of Santa Barbara County. Our wine program also includes an estate-grown Zinfandel, Sauvignon Blanc and several other notable offerings.
Additionally, Steven oversees all winemaking for the Santa Catalina Island Vineyards wine project; an elite collection of wines grown on Catalina Island. Steven's outstanding results speak for themselves and are testament to his talent, drive & commitment.