Visit Us
Canyon Terrace
The setting for Rusack is as unique as the wines. Entered via a winding drive through the vineyards, the Canyon Terrace features an inviting redwood deck constructed around four beautiful ancient oaks.
Our beautiful Canyon Terrace Deck, Garden and Lounge offers comfortable, conversation-style seating, with table service offering wine by the glass, bottle, and a vast selection of wine samples our guests can choose from. Charcuterie plates and caviar are also available for purchase, and we ask that you please order 48 hours in advance. Each seating is 90-minutes.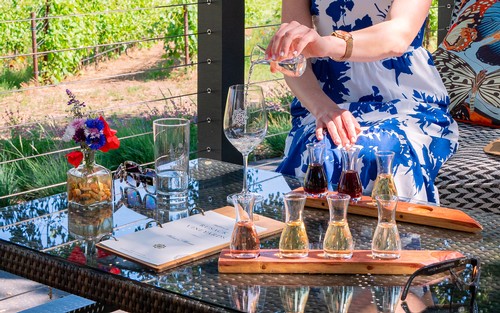 Hours
Our Canyon Terrace is open Thursday - Monday from 11am-5pm by appointment only. Last reservation is at 3:30pm. Click here to book your appointment with us.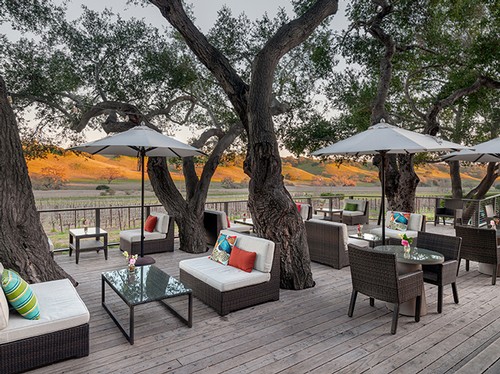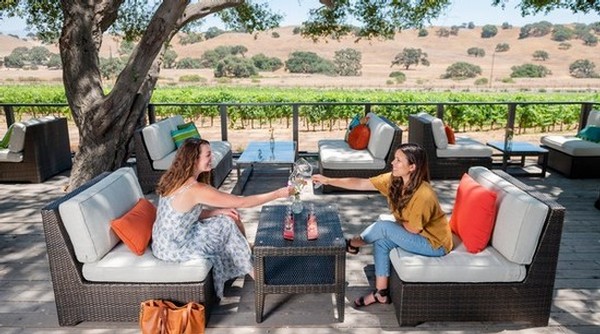 Oak Deck
Rusack is fronted by a redwood deck that overlooks the estate vineyards, with the rolling oak-studded hills providing a picture-perfect backdrop.
Come relax on the deck under a canopy of ancient oaks and enjoy the view while you sip our award-winning handcrafted wines.
In addition to keeping a supply of crisp white wines chilled and red wines ready for your tasting pleasure, we have a sampling of cheeses and crackers available for sale.
Dog Friendly
We are dog friendly! We ask that your dog remains on a leash during your visit and stays on the patio in your company.
Events
We regret that we are not always able to accommodate large groups. If you are interested in bringing a group of six or more, please call ahead for reservations. Groups of six or more are subject to a $50 reservation fee. This will be refunded upon arrival or prior to a 24 hour cancellation.
Unfortunately, we do not have the appropriate facilities, nor the staff, to support private events, including weddings. Should you wish to have an event at a winery here in the valley, the Santa Barbara County Vintner's Association may be able to assist you.
---
Directions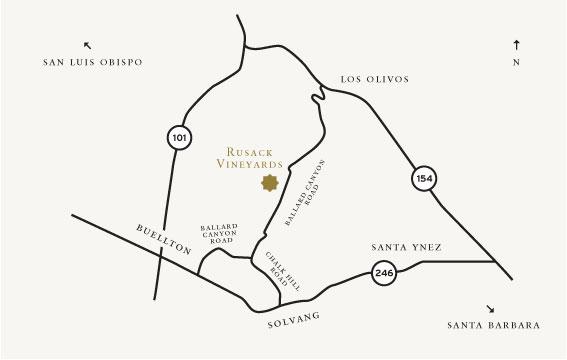 Traveling from the South
Via Highway 101, travel north to Buellton and take the Highway 246 (Solvang/Lompoc) exit. At the end of the off-ramp turn right (towards Solvang) onto Highway 246. Drive ¾ mile through the town of Buellton, and turn left onto Ballard Canyon Road, just past Thumbelina Drive and immediately after the adobe-colored wall and housing development on the left side of the road. Continue along Ballard Canyon Road, taking a left at the 'T' intersection. Rusack is 2 miles from the 'T' intersection, on the left-hand side.
Via Highway 154, travel north just past Los Olivos and "Mattei's Tavern" to Foxen Canyon Road. Turn left, then immediately right onto Ballard Canyon Road. Rusack is on the right-hand side approx. 4 miles from Highway 154.
Traveling from Solvang
In the middle of town, you'll find a traffic light at the intersection of Mission Drive and Atterdag. Take Atterdag north; on the outskirts of town, the road changes to Chalk Hill Drive, then to Ballard Canyon Road (stay to the right!). Rusack is about 3 miles from Solvang, on the left-hand side.
Traveling from the North
Take Highway 101 south to the Highway 154 exit and turn left. Travel approximately 5 miles along 154 to Foxen Canyon Road. Turn right, then immediately right again onto Ballard Canyon Road. Rusack is on the right-hand side approximately 4 miles from Highway 154.