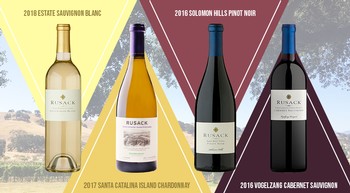 Inspiration "Stay"cation Bundle
An inspiring selection of 4 wines with creative suggestions on ways to enjoy them. Everything from where you should sip your wine, to food pairings, to what tunes should be playing in the background... this is the ultimate guide to "Inspiration Stay-Cation!"
Until we can once again sip & toast under the oak trees on our Tasting Room patio, we are taking $18 (our normal tasting fee) off each "Stay-Cation" pack!
Wines included:
2018 Sauvignon Blanc - RUSACK Estate
2017 Chardonnay - Santa Catalina Island Vineyard
2015 Pinot Noir - Solomon Hills Vineyard
2016 Cabernet Sauvignon - Vogelzang Vineyard